imail is a powerful mailing tool allowing you to streamline your outbound mail processes. Both transitional and direct mail benefit from quicker, cheaper and eco-friendly postage.
Direct Mail
The flexibility of imail allows any business to use our marketing postcards whatever the event. Our customers have personalised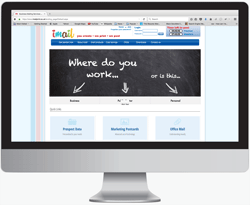 postcards to help market a new business on a small budget.
From appointment confirmations, service updates, sales and promotions imail can be used to generate the buzz you need and is an ideal marketing tool for your business. Our cheap postcard printing service can even be used to send your wedding invitations or personalised postcards to your family and friends!
Send postcards today with imail and watch your business grow.
Three simple apps
Our range of easy to use applications turn's sending mail from a headache into a smile. Choose between the web, print driver or API to send your mail to us – or a mixture of all three.
Web Personalisation
As well as optimising your productivity, we can ensure your mail is tailored to the recipient. By uploading a CSV file to imail, this can enable
your company to communicate personally to the customer. Besides this, you can amend any standardised defaults to designs that suit your requirements.