A unique approach to office mail 
If you are looking for an office mail service unlike any other, imail can help. Our high quality business mailing service ensures you send every item of correspondence you need to without the hassle of posting it yourself. imail is committed to providing a top-rate business mailing service unique to the market, with an aim to revolutionising the way your business post operations work.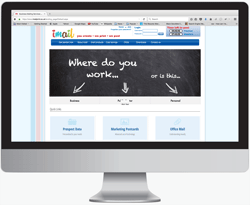 That's where imail can help. We are an online mailing service that combines the convenience of using the Internet with the personal touch of sending real mail. Our hybrid mail service means we do the hard work for you, whilst bringing you total control, cost savings and even a reduction in your carbon footprint. With imail's mail fulfilment services you can send mail online and not have to worry about printing or posting to your usual mailing house- we do all that for you. And don't worry about bulk mailing; we can take care of that too. So, it doesn't matter if you want to send one letter or a mountain of bulk mailing, imail's mailing house service has the mail fulfilment solutions for you.
imail ensures sending your business post has never been easier or more cost-effective. Simply use our easy system to create letters or cards with savings of up to 60% on various costs, such as print, stationery, production and postage. Our quality two-day delivery for standard business post equates to 3p below a second-class stamp. All you need to do is follow three quick and easy steps to compose your mail, and then our office mail service will process it for delivery.
imail uses state-of-the-art machines to print your business mail at high quality on high-grade stock, which means your mail will reach its destination looking the best it can. No matter how good the content of your business mail is, unless it is presented well and attractive to look at, people are unlikely to give it their full attention. With our easy to use system, you can create your business post from a range of customisable templates, with formats for every letter and postcard type, such as payslips, invoices, reminders, employee communications, newsletters, marketing mailshots and simple general office mail.